Karate links and pictures
After training at Sassenage: an experiment with a digital camera

Department of Isere kata competition, January 2000
Weekend training camp near Grenoble, summer 1998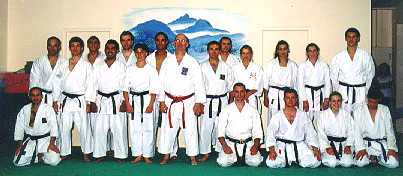 Left to right, standing: Manu, Jo, Pascal, Salvator, ?, Michele, Sam, Tamas (with red/black belt), Alain, ?, ?, Sandrine, Alison, ?
Left to right, kneeling: Thierry, Davide-from-Strasbourg, Gerard, Sabine, ?
(Apologies for the ??? !)
See below for more about training with Tamas... and the Israelis
My teachers in Grenoble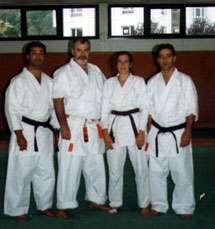 During Patrick McCarthy's visit to Grenoble
On the left, Philippe Giaconne... on the right, Rene Garat. We train in Shito-ryu karate.
I'm in the middle next to Patrick McCarthy, he's the one with the beard.
Friends...
Publications
Training with the Israelis

Granville sunset

I first met Effi Scheyen, Israel, Amihai, and the rest of the gang from Israel at a training camp with Tamas Weber in Granville, in the north of France. Thank you, Tamas!


Tamas demonstrating a technique, Rene is the victim


Itzik Cohen and Effi


Tamas and Josef



Itzik


Israel

All text and images copyright © Alison Toon.