Leather jackets and French bread...
(Click on images to see full-size)

It was a hot, sunny, humid day... and picking up the local what's- going-on-where four-page miniature newspaper, I saw, "Bluegrass and Celtic festival... parade of American Cars and American Trucks and Harley-Davidsons", vehicles displayed in the streets, in Tullins, a small flat-lands town, just north-west of Grenoble. So... still armed with a bag of swimming-clothes and sun-tan oil, instead of heading towards the unpeaceful pool, I hit the road...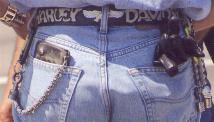 Someone testing a microphone on the other side of the street wall. Space to park the car, right next door. It shouldn't be like this: I was expecting crowds, to have to shoe-horn in between a battered 2 CV and six Renaults. I thought "lunchtime entertainment" meant that there would be music and people... but the guy went on testing his counting skills, and I realised I should learn to read the newspaper... the display on the street was from 10 until 12, the parade was to start at 2, and by arriving at a quarter to 12, I'd walked into the lunch-time preparations, which anyone who's lived in France this long should know is a serious activity which keeps everyone off the streets for at least two hours...
The bikes were there. So were the cars. Not many of either, but not bad for a small French town, and they were all shiny clean, chrome dazzling with sun-fire, bodywork polished... but not a Mack or White or Peterbilt in sight. I bet they were all hiding on some other street, ready to wake everyone from their lunchtime stupor at two o'clock, with a sharp blast on an airhorn or ten.
I once hitched a ride from Leicester to Uppingham in a flat-fronted White. Left-hand drive on England's right-hand roads, the driver's cowboy hat on the dashboard, country music spilling from the cassette player, headed for a ferry and another week or two driving the continent. I can't remember if it was long before I wrote off the Honda, and almost wrote myself off too; or after, when the only way to get twenty miles to work was to hitch, crutches and all, climbing into trucks on crippled legs. Looking back, wonder if it was stupidity, stubborness, a guardian angel or just the pure hungry need of feeding a family, that kept me safe?
A row of Harley-Davidsons shining in the Tullins' sun. A row of local boys' American dreams... two rode up on their bicycles, gazed open-eyed, then scooted off again as their mum yelled. A lot of French Francs propped over on their stands: American bikes with French accessories; an ethnic-woven backpack, a woollen wrap on the handlebars, "Voiron" in the chrome work, Grenoble number plates.
I bought my old Honda for 35 pounds from a friend who'd just obtained a bright-yellow Ducati. Or maybe it was a pillar-box red Moto Guzzi, and it was her boyfriend who had the Ducati... or the 'Guzzi was the yellow one... or perhaps it was a Laverda, and not a Ducati... whatever... I just took the little Honda off onto the unused village road and learned to ride it. And then did 100 miles a day, rain wind and fog, from Rutland to Castle Donnington and back. With a can of WD40 in my pocket, because every time it rained and there were puddles, it refused to go any further until I'd sprayed the wires... It was old and unregulated, and would do 65 mph down a very steep hill with the wind behind you, but it was independence...
But here and now and in France, if you want to ride a bike, it'll cost you. Don't even think about the price of a Harley... not until you've passed your test. Anyway, everyone here rides sports monsters with plastic fairings and matching go-faster helmets and fashion leathers. Or Yamahas disguised as old Ariels. Just forget the price of the bike: you have to pass your test, first. You may need to take out a second mortgage for that.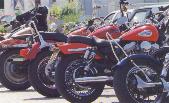 Obligatory, you pay for and take 20 hours of practical training on a training-ground and then on the road. As many hours as you need of highway code study to pass the written exam, with the help of a State Diploma'd teacher and multimedia-teaching-aids. You pay a standard fee, never mind how many hours, days or years it you need to pass the code exam. Even if you have passed your car license, truck licence or are a jumbo-jet pilot, you have to resit the code exam. You pay the fee for the test course exam. You pay the fee for the road exam. You pay the fee for setting-up your dossier at the driving school, and a fee for the all the paperwork they do. And you pay for three photographs, a copy of your ID, a copy of your driving license, and four 3-Franc postage stamps. It all comes to almost 5000 French Francs which is an awful lot of dreaming... But there is no way round it: you want a bike, you take the course. Full stop.
(Of course, similar rules apply to learning to drive a car. You pay lots and lots of money for many hours of theory and practice, but never use your indicators from the moment you've passed your test... )
At least they lend you the bike to take the training... otherwise you'd never get to ride anything more powerful than a wouped-up moped, unless Great Aunt Sally leaves you a couple of million...
Maybe it's not such a bad idea... maybe, just maybe, if I'd done something like this I wouldn't have tried to take a roundabout at 55 mph on a worn-out Honda with fixed foot-pegs and a bald rear tyre... and there-again, I wouldn't have been able to take the one-and-only job that had been offered four months after finishing top-of-the-class of the programming course, when no-one was willing to employ a female programmer/analyst with two young children, because it was still a man's job and anyway why wasn't her husband working???
The Honda was last seen in spare parts scattered around the A46 roundabout between Nottingham and Melton Mowbray.
Growing up in Syston; at some time in the sixties, there was a coffee bar on the Green, close to my father's family home, and it was talked about with black oily dread, because all the bikers hung out there behind the greasy curtains, and the noise of their revving engines shamed the quiet cottages... but anyway the Green was green no more, it was grey tarmac with a telephone box in the middle. And when we were teenagers, the boys we went to school with wore fringed leather and dirty jeans as they did wheelies on their pushbikes, and tried to look grim and tough like their big brothers, one of whom used a coffin as a sidecar. We called them the mini-grease and looked down our noses at them from the great height of adolescent female know-it- all... and cried when we lost our friends on the road, on bikes or in cars, lost more than the town deserved... and now I hold my breath when my daughters are out with their friends, but let them go free...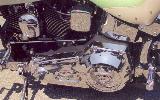 We were dreaming of Bonnevilles and Commandos, and riding to Donnington Park and Silverstone on the backs of rough Hondas, riding the course after the races had finished and waving at the emptying stands...
My dad had a motor-scooter before he learned to drive in the little yellow work-lorry; as a tiny child, I remember us riding round Syston's clock tower memorial (once in the middle of the road, right outside Todd's chemist's shop where I was later to work Saturdays and holidays to pay for Wrangler jeans and Black Sabbath records and all those other necessities of life), and being stopped by a blue-uniformed policeman, who explained that it wasn't really safe for a small girl to be standing on the footrests and holding the handlebars, and please sir will you not do it again or I'll really have to book you?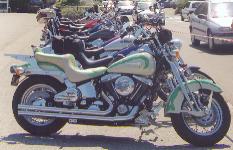 But this page is about Tullins, and French Harleys and the blue-grass festival. I went into the field where they were setting up the sound system. A strong-voiced girl was singing phrases from standard country songs and complaining about the bass level, watched by a man wearing an aggressive T-shirt and a hand-bag. A Coca-Cola flag moved in the breeze: "buvez Coca-Cola!". The owners of the Harleys were at a table under a white tent roof, eating.
No-one said hello.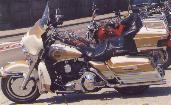 I wanted to take a picture of the big guy: black jeans, black shades, beard, HOG leather waistcoat, round belly pushing forward; and his French accessories, two big sticks of bread wedged under one muscular arm, and hands full of delicate paper plates of pizzas or merguez sausages. I wanted to take his picture, but I was distracted by the sight of the local cowboy, a white ten-gallon hat on his head and his bread holstered like a rifle, waiting in line for food...
I didn't stay for the concert. Got back in the car, and went to the pool, instead.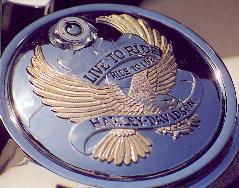 Alison, July 17th 1999
All text and images copyright © Alison Toon.